Escape Through Time With These Local Experiences In Ontario
Rediscovering Ontario through an Indigenous lens
Ontario. It's big. It's beautiful. And sometimes it's hard to find a moment to yourself. I've lived in Ontario all my life, Southern Ontario specifically, and here life can be hectic at times. You might think that a worldwide pandemic would change this. And it did. In a lot of ways, life was simpler. But, after months of isolation, my whole family yearned to explore. So, carefully and safely, we gave ourselves a chance to learn, discover, and fall in love with the history of this province all-over-again.
We knew that going to a beautiful resort or cottage rental would be an easy escape. But in the end, all an experience like that would do is move us to a lovely place for a little while. What we needed was something that would help us grow. We needed an escape that would open our minds. Give us a chance to strengthen our hearts and leave us with a greater appreciation of those things that we take for granted.
Luckily for us, we were presented with just that kind of opportunity in the form of a road trip of Indigenous experiences through Ontario. We had done a similar Indigenous experience road trip through Quebec the previous summer, and we completely fell in love with everything that we experienced along the way.
But this time the province, and the world, was in disarray. We were still dealing with many local experiences being closed or offering limited services. But not all of them. And the adventures that we did have provided just what we were looking for.
Day 1: 1,000 Years Of History in Six Nations, Ontario
The largest First Nations community in Canada sits just a short drive from Toronto along the Grand River's picturesque shores.
The Six Nations of the Grand River is home to nearly 30,000 members of the Iroquois Nations, including the Mohawk, Cayuga, Onondaga, Oneida, Seneca, and Tuscarora. And if you're looking to explore Indigenous experiences in Ontario, there's no better place to start.
Her Majesty's Royal Chapel of the Mohawks
Before I started this road trip, I had no idea that Brantford was home to the oldest surviving church in Ontario. And I was even less aware of just how much historical importance the tiny Chapel of the Mohawks held.
This 235-year-old Protestant church is the only surviving building from the original Mohawk village that once sat on the Grand River's picturesque shores. And the eight magnificent stained glass windows inside tell the rich history of the Six Nations community in vivid colour.
Roxanne, our guide at the church, walked us through thousands of years of history from when the Huron Peacemaker worked with the Six Nations to bury their weapons and come together in lasting peace, to when Capt. Joseph Brant forded the Grand River to help establish the first modern village on the western shores.
The stories told in the glass cover centuries. They flow right up to the days of the British colonization and the introduction of the residential school system. These paintings pass right up through to the 1960s when the windows were built and installed. The stories highlight the victories of the Six Nations communities without glossing over the struggles. I couldn't think of a better way to introduce ourselves to the rich Indigenous history of Ontario.
OSTTC Longhouse Ganǫsa'ǫ: weh
Six Nations has been referred to by many names over the years. But among themselves, they are called the Haudenosaunee, or "The People of the Longhouse." There was no better second stop in Six Nations of the Grand River than the magnificent Longhouse Ganǫsa'ǫ: weh. Seeing this epic recreation of a traditional 17th-century longhouse was terrific. Our boys immediately raced through the building, gazing in awe at the towering ceiling and peppering our guide, Colt, with questions of how it was built, where did families sleep, who kept the fires going, and far more questions than I can count.
The visit to the longhouse was incredibly educational, but the day was searingly hot, and the cool breeze wafting through the room made this traditional building a welcome place to be.
The Longhouse Ganǫsa'ǫ: weh, or "The Real House," is run by Ogwehoweh Skills and Trades Training Centre or the OSTTC. The longhouse tours also include a tour of the property, which consists of a peace garden where the sacred Three Sisters, beans, corn, and squash are planted. We also learned that OSTTC is re-introducing a wide-range of Carolinian plants on the property. The boys ran around counting the different species and searching for all of the bee and birdhouses that dotted the forest paths.
The Childhood Home of Poetess E. Pauline Johnson
The Six Nations of the Grand River has produced amazing talents, such as legendary distance runner Tom Longboat and actor Jay Silverheels. But the most notable person to spend her life in the community was among Canada's most celebrated poets, Emily Pauline Johnson.
As she is more commonly known, Pauline Johnson was of British and Mohawk descent and lived in a beautiful home on the Grand River's shores in what is now Chiefswood Park. Her father was a chief of the Mohawk community. He and his British wife raised their children within the community, and her inspirational work reflects that. In many of her performance works, Johnson would begin her recitals in typical British dress and finish with a flourish wearing her traditional Mohawk clothing.
Her childhood home stands as a tribute to her life and the impact that it had on the Six Nations community.
As we explored the home, our boys, who are mixed-race themselves, loved to find similarities between the mix of cultures that the Johnson family embraced. And of all the rooms in the historical mansion, it was Pauline Johnsons' childhood bedroom that they connected with the most. For me, though, it was all about the books. Seeing all of her original written works on display in what was once her winter kitchen was such an exceptional experience.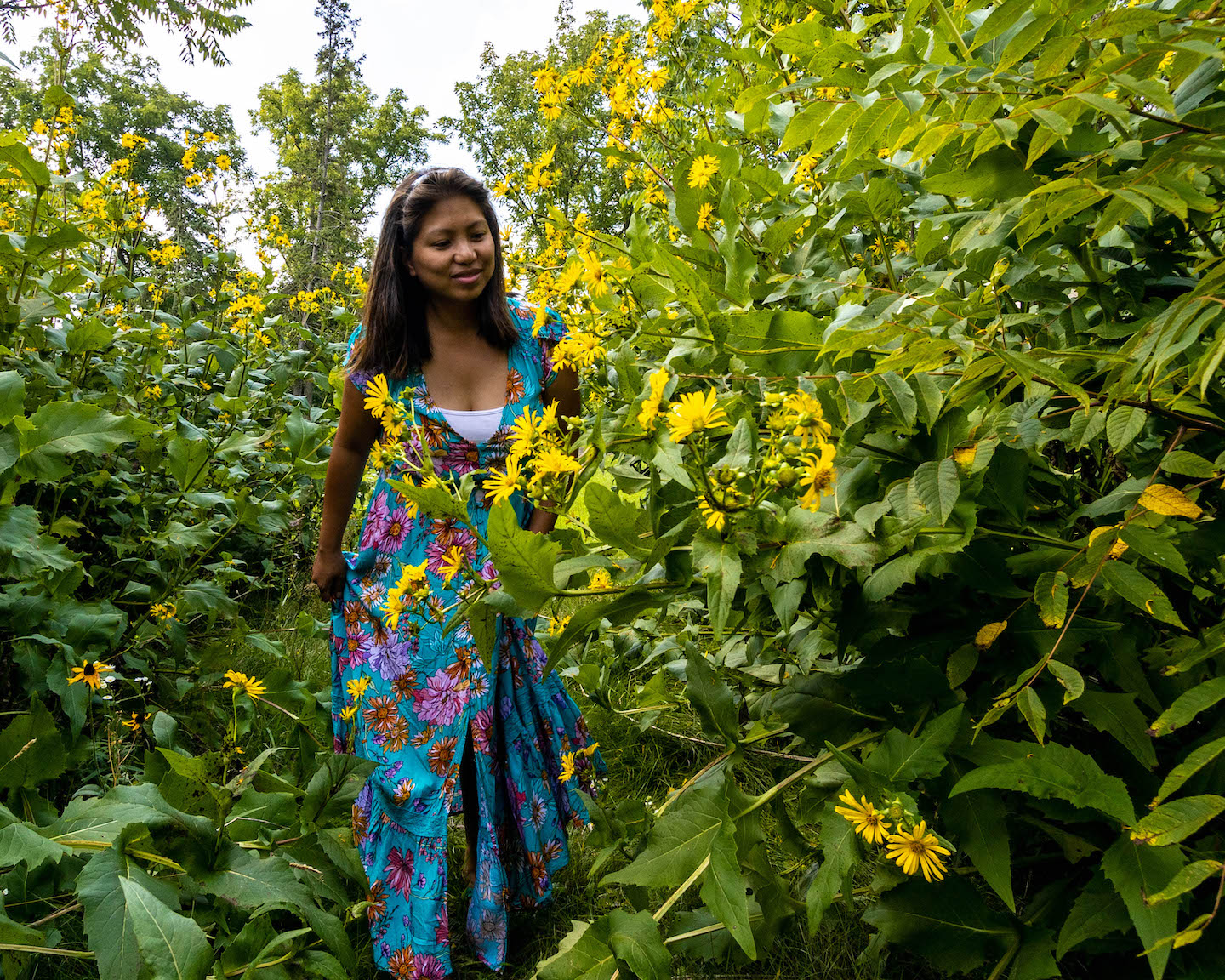 Chiefswood Park isn't just about Pauline Johnson, though. This outdoor playground is a destination where we could have spent a week and still been left wanting more. The property is beautifully situated on the Grand River, and Chiefswood Park offers kayak and canoe rentals for visitors.
But what really won our hearts were the beautiful glamping cabins. When we were shown the cabin, we couldn't believe what was on the inside. The first floor contained a beautiful wood-trimmed kitchen, a cozy living area, a full bathroom, and a beautiful master bedroom. The upstairs had four more beds meaning this beautiful cabin could hold up to eight people for the perfect family glamping getaway.
Day 2: Urban Paradise. Paddling the Humber River With Oceah Oceah.
The next morning we woke up early to drive into downtown Toronto for what would be one of the most remarkable experiences on our three-day Indigenous road trip through the province. Oceah Oceah is a local, Toronto, Stand Up Paddleboard operator working out of Budapest Beach in western Toronto. The company was started by four First Nations sisters back in 2012.
These sisters, who share a passion for surfing and paddling not only rent stand up paddleboards, but they also run lessons, tours, and even sunset SUP socials on the water.
But to make this a meaningful Toronto Indigenous experience, we joined one of the sisters, Jenifer Rudski, for a paddle up the Humber River. This route isn't just one of the most beautiful paddle spots in Toronto, but it marks the end of the "Toronto Carrying Place Trail." This historic trade route was used by Indigenous people long before the arrival of western settlers. And it was this route from Lake Ontario, up the Humber River, to Lake Simcoe that led to the establishment of Fort Rouillé, which would become Toronto, back in the 1700s.
This Humber River SUP experience offered us an authentic taste of urban paradise. We paddled under the Humber River Bridge and the roaring Gardiner Expressway into an urban wetland teeming with wildlife. As we left the towering skyscrapers and concrete highways behind, we were presented with crystal clear waters lined with herons fishing for their breakfast and turtles basking in the sun on fallen logs.
As the silence fell around us, it was hard to believe that we were just a few hundred metres from one of Canada's busiest roadways. It was clear to see why this place is so special. The Humber River is such a vital part of the historic trade routes of early Canada and First Nations people. It is one of the few remaining natural oases in Toronto.
After finishing our morning of paddling in Toronto, we hopped into the car for the drive up to the nation's capital. We checked in at the Westin hotel on the edge of the Rideau Canal and called it an early night. After all, we had a big day ahead of us.
Day 3: An Enlightening Walk Through Ottawa's Monuments With Indigenous Walks
We woke late that morning, refreshed, and relaxed. We walked a short way across the Rideau Canal to meet Jaime Morse of Indigenous Walks.
We weren't sure what to expect on a walking tour of Ottawa's monuments with our six and nine-year-old boys along for the ride. I mean how much can a couple of young boys grasp from the exploration of modern monuments from an Indigenous perspective.
Well, it turns out that they can get a LOT out of it. Our time with Indigenous Walks ended up sparking some incredible conversations that never would have happened if we hadn't had them along with us.
Jaime is a wealth of information and expertise on Indigenous representation in art. And it was mind-blowing to learn about how Indigenous People in Canada have been marginalized through their appearance or omission from monuments and artwork right here in Canada's capital.

Our son C is a massive fan of celebrated Six Nations distance runner Tom Longboat. After reading a book about his accomplishments while in grade two, he wouldn't stop talking about Longboat for months. As we passed the Canadian Sports Hall of Fame, we were told that there wasn't a single Indigenous person represented in the museum. "Not even Tom Longboat"!?" he cried.
The tour left a powerful impact on all of us. And we ended up in in-depth discussions together. Every time we passed a monument, we sat and discussed what the representation was telling us and whether it reflected our understanding of that history.
Dancing and Canoeing in Ottawa with Indigenous Experiences
We made the short walk to the Rideau locks and took the Ottawa River Taxi across to Gatineau, Quebec, on the last activity of our road trip through Ontario. Indigenous Experiences, which usually runs on Victoria Island in Ottawa, is currently running out of the Canadian Museum of History on the shores of the Ottawa River.
We were greeted by the absolutely fantastic Marie with a traditional welcome song. We enthusiastically prepared for one of Canada's Signature Experiences, the Aboriginal Voyageur Canoe Ride, and the Traditional First Nations dancing.
As we made our way down to the Ottawa River shoreline where we were met by a "traditional" voyageur. He taught us about the fur trade and the vital relationship between voyageurs and their First Nations partners. It was only with the aid of their Indigenous contacts that these legendary explorers were able to navigate the treacherous riverways between Ottawa and Montreal to make the regular transport of fur and supplies between the cities.
After a safety chat, we piled into one of those same Montreal canoes and paddled the great waters of the Ottawa River for ourselves. As we paddled, we learned stories of the work, the canoes, and the river runners' wild lives.
When we arrived back onshore, it was just a short walk to the next part of our Indigenous Experiences adventure. Marie walked us through a collection of traditional First Nations tools and buildings on display. The boys zipped through the longhouse and wigwam. We all learned about wood cutting and identifying native animals from their furs, and were even taught about the fantastic workmanship behind birchbark canoes.
But the most exciting part of our visit was the First Nations dancing presentation. We've been lucky enough to have attended pow wows on Manitoulin Island, Toronto, and Wendake, and we just can't get enough of the music, dancing, and celebration surrounding them.
For visitors to Canada, or Canadians who've never experienced a pow wow or First Nations dances first hand, the Indigenous Experiences celebration is a worthy introduction.
We were all tapping our feet and drumming on our benches as representatives from different Nations and communities across the country performed spectacular dances in full regalia.
The fact that we were limited by COVID was the only reason that we weren't getting up and dancing along.
Hearing the descriptions of how the dances originated and how the pow wow traditions were kept alive during times of oppression was incredibly enlightening.
Even though Indigenous Experiences is operating with a limited selection of programs, they are looking to open up even more activities soon. The Voyageur Canoe Ride is one of the attractions that you might want to call ahead to ensure that it's on offer when you visit.
Now It's Time To Plan Your Indigenous Road Trip Through Ontario
After three days of exploring Ontario and the amazing Indigenous tourism experiences that are offered, we arrived back home, satiated, energized, and inspired to look at the world and our country in a different light.
We succeeded in shaking off the cobwebs, getting out, and safely experiencing Ontario. And we're inspired to get out and see even more of the First Nations attractions throughout the province and territories across Canada.
Now it's time for you to plan your own Indigenous road trip.
Where would you start? With culture in Six Nations, Adventure and Outdoors in Toronto, or Education and Inspiration in Ottawa? Or would you take a different approach and see some of the other amazing First Nations adventures that can be found throughout Ontario?
To get help with your planning your escape, you can also contact our travel agency partner, Indigeno Travel:
Featured Experiences
Six Nations Tourism
Ohsweken, Ontario
Accommodation & Relaxation, Art, Craft & Gifts, Culture & Heritage, Wildlife, Nature & Adventure