Discover Québec from the shores of St Lawrence to the boreal forest and explore a rich landscape that many Indigenous communities call home. See the region's wildlife and discover its storied Indigenous Culture.
By Waheeda Harris
DAY 1
Arrive in Montréal and head to the cobblestone streets of Vieux-Montréal to discover the Ashukan Cultural Space, produced by Sacred Fire Productions. Open year-round, this multi-purpose hub helps Indigenous artists to promote their work within Canada and to an international audience. Ashukan also offers exhibition space for contemporary Indigenous art with exhibitions such as Femmes mes soeurs / Women are sisters showcasing embroidery as a tool for social and collective mobilization. — sacredfireproductions.ca
Overnight in Montréal.
DAY 2
After breakfast, cross the St. Lawrence and in 45 minutes arrive in Mont-Saint-Hilaire. Visit the Maison Amérindienne, where you can immerse in the sweet history of the sugar maple tree. Learn how Indigenous People added maple sap to water and used it in their cuisine and how its collection was an annual reunion. Painter/sculptor André Michel opened this cultural house in 2000, and each year, the museum features six exhibitions of Indigenous and Métis artists. Feast at Café Le Mishtan on crustless sugar pie made from a traditional Atikamekw recipe and herbal teas such as willow, ash, birch, lavender and crowberry. — maisonamerindienne.com
From Mont-Saint-Hilaire it's an hour to Odanak, situated in the heart of the Abenaki First Nation with a fascinating museum. Founded in 1965 by community members, the Abenaki Museum was the first Indigenous-focused museum in Québec. The Wôbanaki: People of the Rising Sun, is a multimedia telling of the Abenaki creation story; you can also learn outside along the Tolba, a 1.2-kilometre trail along the St. François River, which teaches visitors about medicinal plants and animal species. —museeabenakis.ca
DAY 3
After a memorable day of Indigenous Culture, overnight in Trois-Rivières. Head to Québec City, an hour and a half drive from Trois-Rivières for retail therapy at Atikuss Boutique. Opened by Innu businesswoman Josée Leblanc in 2016, this cosy shop promotes Indigenous women artists and is a showcase for custom-designed Hopeboots and temptations such as moccasins, hats, jackets and handicrafts. — atikuss.com
From Vieux-Québec, 20 minutes and you're in Wendake at contemporary-styled Hôtel-Musée Premières Nations. Inspired by Iroquoian longhouse design, this light-filled, pet-friendly hotel features First Nations art and a palette of fur, leather, stone and wood. Stroll next door to the Huron-Wendat Museum, with its dioramas depicting Huron-Wendat history and Culture, and visit Tsawhenhohi House, former home of 19th century Grand Chief Nicolas Vincent Tsawhenhohi. — hotelpremieresnations.ca
Pick a table near indoor or outdoor fireplaces for dinner at the hotel's La Traite Restaurant. The First Nations-inspired menu includes palate-pleasing options of wild game and smoked fish, accented with locally foraged herbs and berries. With all rooms facing the Akiawenrahk' River, you'll be easily lulled into dreamland by the sounds of the water. — tourismewendake.ca/en/restaurants/la-traite
DAY 4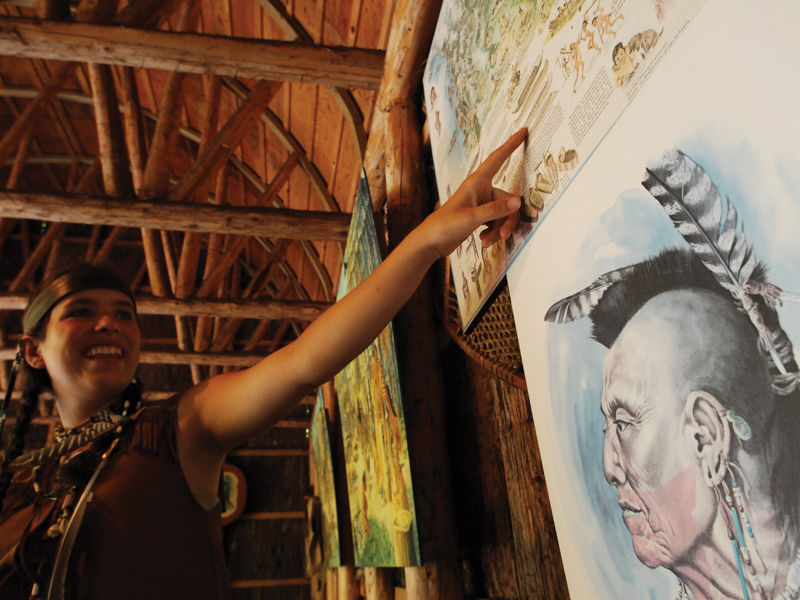 Go for a workout in Hôtel-Musée Premières Nations' indoor pool or gym before heading down the road to Huron Traditional Site Onhoua Chetek8e a recreated village of the Huron-Wendat. Activities include storytelling, sacred dance, medicine wheel or animal skin workshops or learning the Satechaquey rally, a series of physical competitions. — huron-wendat.qc.ca
A guided tour includes interpretation of the giant teepee, longhouse, sweat lodge, smoke house and visiting the canoe and snowshoe workshop. As most activities are outside, dress according to the weather. NEK8ARRE Restaurant offers visitors a game or fish-based three-course lunch. — huron-wendat.qc.ca/restaurant
After lunch take the scenic four-hour drive to Tadoussac where the Saguenay and St. Lawrence rivers meet to enjoy the Innu community-created Enterprises Essipit. Select from these memorable overnight options: Tadoussac Campground with hillside sites overlooking the rivers, accommodating tents, trailers and recreational vehicles, and ready-to-camp options, including camping accessories, electricity and heat. The Tipi Campground, a half hour from Tadoussac in the forest, has sites for tents and RVs, hiking trails and ready-to-camp options. Closer to Tadoussac, Lacs à Jimmy offers fully furnished cottages with propane-powered amenities and direct access to the lake for swimming and boating for two to 20 guests. — vacancesessipit.com
DAY 5
Kick-off your last day with an Essipit whale watching cruise at Grandes-Bergeronnes marina, 20 minutes from Tadoussac. Board a zodiac and sail into the St. Lawrence estuary to the Saguenay-St. Lawrence Marine Park. A year-round home for beluga whales and harbour seals, from May to October its seasonal residents include fin and minke whales, and the world's largest animal: the blue whale. Warm clothing is recommended for all tours from June to October; Essipit will lend tour participants clothing and accessories to keep warm too. — vacancesessipit.com
Ten minutes' drive from the marina, Mer et Monde Écotours, who celebrate their 30th anniversary in 2021, offer guided sea kayaking tours with ocean view accommodation. Found on a peninsula with paddle in-and‑out-kayak access, the L'Anse à la Cave campground has platform camping, ready-to-camp sites with all accessories and comfy rustic wood cabin shelters with gas fireplace and solar electricity. All accommodation includes a picnic table and fire pit for meals and relaxing after a day of activities.  — meretmonde.ca
For another option, drive 20-minutes down the coast to the Essipit cottages, which are easily accessible by car, close to hiking trails and include all the necessities of a home away from home. The charming red-roofed Anse-à-Jos A-frames and the classic wood Shipek cabins are close to the St. Lawrence for regular beachcombing and walk along the riverbanks, while the more secluded Anse-à-Yves vacation homes are on a cliff with the kind of panoramic views that will easily become your most-liked Instagram post. — vacancesessipit.com
If you're looking for a few more creature comforts, then check-in to Natakam Condo-Hotels, in Les Escoumins; these stylish one- and two-bedroom suites have fireplaces and either a private balcony or terrace to enjoy the 270 degree views across the St Lawrence. Amenities include a playground for the younger set and bike paths for all ages. Bonus: all guests can whale-watch from their room's deck. — vacancesessipit.com